Market Harborough plan for 1,500 homes approved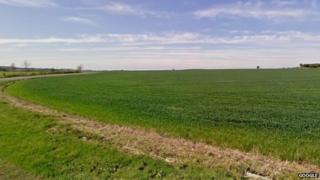 Plans to build 1,500 homes on the outskirts of a Leicestershire town have been approved by the district council.
Residents packed into the special planning meeting, which was called to discuss three major applications in Market Harborough.
The plans for Airfield Farm, Lubenham and adjoining land will also see a new school, medical centre, parks, a marina and a hotel being built.
Residents have raised concerns about the scale, amenities and traffic.
Plans for the development, split into three, were approved by Harborough District Council's planning committee at a meeting on Monday evening.
'Needs further work'
The plans include more than 920 homes on 57-hectares of land at Airfield Farm, 119 for a nearby site in Lubenham Hill and a further 450 homes on Manor Farm, Lubenham.
Conservative councillor Blake Pain, leader of the council and county councillor for Market Harborough, said the proposals would provide affordable housing and employment for the town.
However, he said the congestion and loss of agricultural land would have a negative impact on existing residents.
"If the Harborough area and surrounding villages are to accept such levels of new housing, it needs to be of the highest quality and contribute positively towards the character of the area," he said.
A parish council spokesman for nearby Foxton said there were still concerns about the volume of traffic the extra homes would generate.
Work on the new housing could start later this year, but would depend on market demand, a district council spokesman said.