'Jilted John' has amazing honeymoon with other woman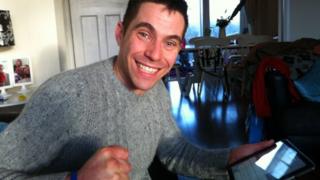 A man who sold raffle tickets for his ex-fiancée's honeymoon place after she dumped him, says he had an "amazing holiday" with another woman.
John Whitbread jetted out to the Dominican Republic with Kelly Wood after she was the lucky winner in the "Jilted John" charity raffle.
Mr Whitbread, from Donisthorpe, in Leicestershire, said everyone had asked if they had become a couple.
But he said this could not have been further from his mind.
"Everyone is hoping I've found romance again," he said.
"Obviously not. I only recently split up with my girlfriend.
"The weekend before [the honeymoon] was tough because it was when I was supposed to get married. Everyone forgot because I've never done the sob story."
Mr Whitbread and Ms Wood, from Lowestoft in Suffolk, returned from the £1,800 trip on Tuesday morning.
He initially auctioned the honeymoon place on eBay but the highest bidder failed to pay the £8,000 bid.
The second highest bidder promised to pay but then pulled out, meaning Mr Whitbread was jilted for a third time.
He then sold £10 raffle tickets, raising £1,420 for Balls to Cancer.
The holiday was only open to women because Mr Whitbread said it "didn't really seem like a lads' holiday" and that he would be able to appreciate it more with a woman.
After returning, the 32-year-old said: "I've made a friend out of it and it's brilliant.
"It could have easily gone the other way. To go on holiday with a complete stranger and get on is incredible.
"Hopefully we will stay friends. I don't see why not."
Ms Wood posted on Facebook: "Such great memories to take away with me though and an amazing new friend for life!! Loved every second of this crazy adventure!! Couldn't have asked for more!!"