Beauchamp Childcare Centre in Oadby forced to close suddenly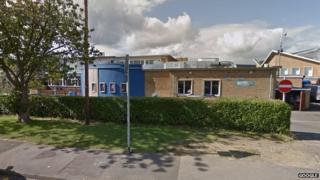 An "outstanding" nursery has been forced to close, forcing dozens of parents to find last-minute alternative childcare.
Beauchamp Childcare Centre in Oadby, Leicestershire, discovered it needed a separate Ofsted registration from the college where it is based.
It meant the 70-place nursery no longer had insurance and had to close.
Managers apologised, blaming a "technical change", and said they hoped to reopen as soon as possible.
The bureaucratic error was uncovered on Monday when Ofsted inspectors paid an unannounced visit to the nursery, which is part of Beauchamp College.
'Deeply sorry'
Managers were forced to immediately close the childcare centre.
It is not known when it will reopen.
One parent, who did not want to be named, questioned how the nursery could make such a mistake.
"We had a phone call from the manager quite late in the evening. She informed us the nursery is closed due to Ofsted visiting and they didn't have the right paperwork," he said.
"Unfortunately we don't have somebody to look after our children - that's why we send our daughter to nursery. They have let us down; let us down badly."
Kath Kelly, head of Beauchamp College, said it was "deeply sorry" for the inconvenience.
"Under previous systems both the college and the nursery were registered as one organisation. That's what happened in 2011 when Ofsted found the college and the nursery were outstanding," she said.
She said that managers were working as quickly as possible to register the nursery but they had not been told how long it would take.
Staff have contacted all other "high quality" childcare providers in the area to compile a list of spaces.