Leicester judge rebukes security staff over defendant's 'costume'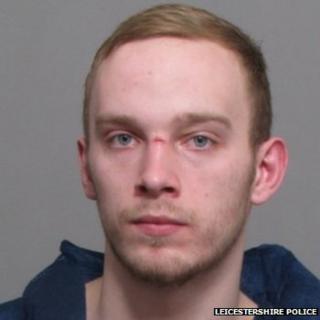 A judge rebuked security staff who failed to ensure a prison van escapee changed out of a bright-coloured jumpsuit before appearing in the dock.
Adam Herbert, who escaped from a prison van on 26 December, appeared at Leicester Crown Court dressed in the blue and yellow suit.
He admitted fleeing the security van as he was taken from a police station to court on a burglary charge.
Judge Simon Hammond called the outfit "inappropriate" for a defendant.
Herbert, 20, thought to be from the New Parks area of Leicester, admitted the escape charge and a second burglary charge.
He will be sentenced at a later date along with co-defendant Dempsey Lunn, aged 21, of Marriott Drive, Leicester.
Herbert had been wearing a grey tracksuit and black trainers when he escaped from a GEOAmey security van on Boxing Day.
The van had been stationary at a junction in Leicester city centre when he "climbed out".
The escape was filmed on CCTV and Herbert was re-arrested two days later.
Judge Hammond said: "The costume is inappropriate for any defendant to be dressed in the way Mr Herbert is.
"He is in custody so he is not going to be at liberty.
"He shouldn't be produced in the dock in a blue and yellow jumpsuit."
He asked for the defendant to be presented in different clothing for sentencing and warned that any further attempts to escape would result in him being ordered to serve a longer sentence.