Rutland Water photo snaps starling-shaped murmuration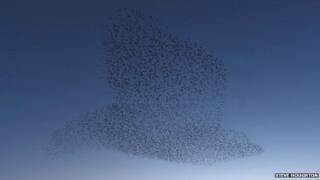 An amateur wildlife photographer has captured a flock of starlings flying over Rutland Water in a formation that resembles a huge bird.
Photographer Steve Houghton says the "once-in-a-lifetime" shot only lasted a few seconds.
"Thankfully the speed at which the camera is able to take images enabled me to capture it perfectly," he said.
The flock of starlings, known as a murmuration, was getting ready to roost for the evening.
Mr Houghton, 49, of Thorpe Satchville in Leicestershire, said: "On getting home and beginning to process the photos I came across this image, basically thousands of flying starlings doing an almost perfect impression of one giant flying starling.
"I have been photographing wildlife for over 25 years and have never seen or indeed heard of anything like this before."
---
Startling starlings
Starlings are slightly smaller than blackbirds and have speckles on their body
They can be seen almost anywhere, including over piers, wetlands and farmland
---