Controversial Leicester traveller site opens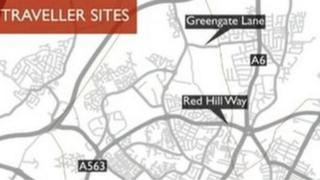 One of two controversial Gypsy and traveller sites has opened in Leicester.
The Red Hill Way site, with room for 10 families, opened earlier. A second site with six plots will open next week.
Travellers have raised concerns about CCTV cameras on the sites but the city council said they were to protect the inhabitants from anti-social behaviour.
The sites were given planning permission in 2013 despite 1,500 objections during a consultation.
Almost £2m, mostly from the government, has been spent on creating the sites and refurbishing an existing 21-plot site at Meynell's Gorse about five miles away.
Both the Red Hill Way and Greengate Lane sites have plots for static caravans, kitchen and bathroom blocks and areas for touring caravans.
Travellers have submitted a petition to the council against the installation of CCTV cameras at the site entrance and in communal areas.
The council's Director of Housing Anne Branson denied they were "spying" on the travellers.
"Our experience and experience of other sites in the county is that sometimes there is anti-social behaviour," she said.
"We want to help the Gypsies and travellers to be protected - other people can come to the site and cause problems for them."
Consultation on the sites started in 2012. Ms Branson said the creation of the sites was necessary to prevent roadside encampments.
"It's been a long process to find somewhere suitable," she said.
"People have been concerned about the numbers of Gypsies and travellers in the northwest of the city. Equally, we're concerned to offer accommodation to people."
She said the sites will be operated like other council properties: "It's a permanent tenancy provided as it is for our council tenants as long as you pay rent and behave yourselves."
The council said there was a possibility more sites will be built but not until the city's local plan goes out for consultation later this year.