South Africa crash inquest: 'No seat belt warning given'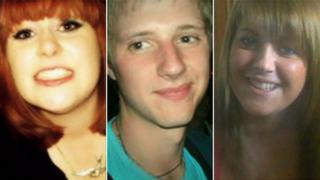 An inquest into the death of three UK students who died in a coach crash in South Africa has heard passengers were not instructed to wear seat belts.
The three students from Leicestershire were on a field trip in 2010 when their bus overturned near Nelspruit in the northeast province of Mpumalanga.
A lecturer who survived the crash described the bus as "old and tatty".
South African tour guide Trevor Dearlove has denied that he failed to tell the passengers to wear seat belts.
Mr Dearlove, who is not attending the inquest at Loughborough Coroner's Court, said he gave the passengers a safety briefing.
It is believed none of the passengers were wearing a seat belt.
Brooksby Melton College students Eleanor Payne and Samantha Lake, both 19, and Daniel Greenwood, 22, were killed when their tour bus overturned during a field trip in June 2010.
'Lost control'
The inquest heard the bus driver could not get the vehicle in gear during a steep mountain descent and lost control.
The bus, which was carrying 18 students and two teachers along with the driver and guide, turned on its side on the edge of a sheer drop.
Kate Cox, lead lecturer on the trip, said: "I was dozing and was woken up by being thrown. I think the bus was toppling."
She said the tour guide "didn't say anything about seat belts" in his briefing.
A second teacher, Lesley Wojnarowicz said: "I remember the bus speeding up and I heard a massive creaking noise.
"I must have been unconscious after that because the people to came to rescue us woke me up. I was lying on my side with my legs inside the bus and my top half outside it."
The court heard that a few hours before the crash the bus had taken an alternative route down a narrow road with potholes and sheer drops either side.
The detour was described as like "a fairground simulator ride".
Mrs Cox said that during the detour she had "feared for my life" and had tried to text her husband but could not get a signal.
Ms Lake and Ms Payne died at the scene and Mr Greenwood died in hospital later.
The inquest continues.