Richard III reburial fund hits £2.5m target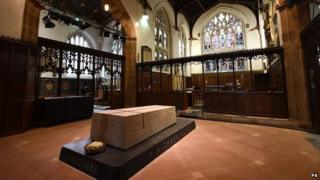 A fundraising appeal to meet the costs of reburying Richard III has reached its £2.5m target.
The king's bones were found under a Leicester car park in 2012 and reinterred last month.
Leicester Cathedral officials said the money had been raised through grants, local businesses and individual donors.
They said £1.6m was spent on the tomb and changes to the cathedral, with the rest going on displays and staff to handle increased visitor numbers.
Richard III was killed in 1485 and buried in a church, which was then demolished and the site lost.
After the discovery of his remains, a legal battle over where they should be laid to rest ended in Leicester's favour in May 2014.
The fundraising appeal was launched in November with a £500,000 donation from the Diocese of Leicester.
A spokesman said since much of the spending had been committed early on, some money had been borrowed in anticipation of funds being raised.
The Dean, the Very Reverend David Monteith, said: "Raising £2.5m in under a year was always going to be a really big challenge. But we are so grateful to the generosity of our many donors that has enabled us to raise every last penny needed to reinter the king with the dignity and honour that we set out to achieve.
"This has in no small degree been an achievement of the people of Leicester and Leicestershire, and has enabled us to put our cathedral, and our city and county on the map."