Campaign to save Leicester's listed 'open air' school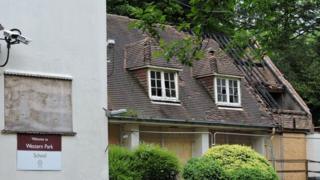 Former staff and students of an "open-air" school in Leicester have started a campaign to save the listed building from demolition.
The Western Park Open Air School, opened in 1930 for children with respiratory problems, closed in 2005.
Former student Glynn Finney said the boarded-up buildings are an important part of the area's heritage.
City Mayor Sir Peter Soulsby said there was "no realistic prospect" of the council developing the site.
Demolition fear
Mr Finney said: "The site means so much to me. It was a sad day when it closed.
"It is Grade II listed, but if it becomes a general risk or hazard to the public then there is criteria which states that it could be demolished."
A petition has been started calling for the council to preserve the site and transform the buildings in Leicester's Western Park into a café or community centre.
"I feel sooner or later it could be financially viable to the council," Mr Finney said.
"There are quite a few former pupils and staff that feel it could be used for the community in some ways, perhaps as a café for the park."
There were 127 open air schools in the UK by 1939, but the use of antibiotics and the decline of tuberculosis reduced demand for school places.
Mr Soulsby said: "It really needs somebody from outside to come in and do it, as there's no realistic prospect of the council being able to do anything with it.
"The school is across the number of different buildings which would not easily covert into a café or council use.
"We have been actively marketing the site, and I'd be delighted to hear any proposals to provide a sustainable use for it."