Leicestershire disabled mother Claire Lomas paints parking bay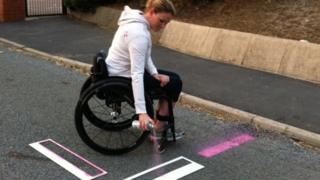 A disabled woman, who once completed a marathon in a bionic suit, has spray painted her own parking bay outside her daughter's school.
Claire Lomas, from Melton Mowbray, said Leicestershire County Council had approved the space months ago but the work has still not been carried out.
The lack of a bay meant she could not take her daughter Maisie into Great Dalby Primary School on her first day.
The council apologised and has now painted a new disabled bay.
Ms Lomas, 35, said she and school approached the council about creating a space in April.
The school said a site visit was carried out in June after a space had been approved, and was marked out.
The lack of action prompted Ms Lomas to take the matter into her own hands.
"I had been asking and asking over the summer but nothing had been done," she said.
"It was my daughter's first day at school and it was a big day for her and me but I had to drop her off with another parent at the bottom of the hill near the school. I wanted to see her in but I couldn't."
A Leicestershire County Council spokesman said: "We would like to apologise for the delay in painting this disabled bay and the inconvenience this has caused Claire and Maisie during the first weeks of the school term."
Ms Lomas, who was paralysed after a horse riding accident in 2007 and raises funds for spinal injury charities, was dubbed "the bionic woman" after walking the 2012 London Marathon route in 17 days in a specially adapted suit.