Sarah Outen finishes global 'loop' at Tower Bridge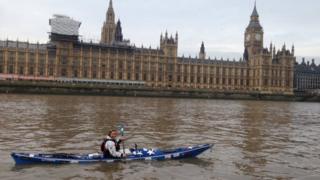 The adventurer Sarah Outen has completed her attempt to loop the globe using only a kayak, bike and rowing boat.
The 30-year-old, from Rutland, started her challenge in April 2011 at Tower Bridge and finished at the same point by kayak at 12:00 GMT.
Raising money for charity, she tackled extreme weather conditions during her journey across the northern hemisphere.
In October, she was forced to abandon her Atlantic row due to bad weather.
Ms Outen's challenge has not been classed as an official circumnavigation of the earth as it did not cross through opposite points of the earth.
However, during her 1,676 days on land and sea she became the first woman to row solo across the North Pacific in 2013, having previously failed in an attempt due to a tropical storm.
The adventurer's attempt to row the Atlantic was not as successful due to worsening weather and the threat of hurricane Joaquin, after she had been at sea for 143 days.
Ms Outen said she shed "lots of tears" at the thought of abandoning her attempt after she was hit by large waves and winds of up to 60 knots (69mph).
She was rescued by a cargo ship which took her to Canada from where she flew back to the UK to finish her global loop attempt.
For the final leg of the 25,000 mile (40,233 km) journey Ms Outen has been kayaking on the River Thames towards London after setting off from Oxford on 30 October.
---
What happened along the way...
Endured temperatures as low as -40C (-40F) during the journey across Canada and the US
Cycled and kayaked 5,000 miles (8,050km) across North America
Scared a bear away while naked after she bathed in a pool on a remote island in the North Pacific
Rescued from the ocean by the Japanese coastguard during a tropical storm
Rowed for 150 days on a solo Pacific crossing from Japan to Alaska
Proposed to her partner by satellite phone during her crossing of the Pacific
Rescued by a cargo ship in the Atlantic, leaving behind her boat Happy Socks
---