Dog stuck in cat flap in amorous encounter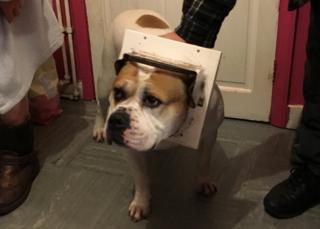 A dog had to be cut free from a cat flap by firefighters after an amorous encounter went wrong.
Keeta, who is currently in season, stuck her head through the kitchen cat flap when a male dog got into her owners' garden in Leicester.
She ripped the cat flap out of the door while trying to free herself, allowing the other dog to get through the hole.
Keeta's owners think she just wanted to play, but they now have to wait to see if she will have puppies.
The potential father ran off after owner Nigel Page found the dogs in the kitchen together.
'Legged it'
"We don't know whether they've done anything or not," said Mr Page.
"The other dog was smaller, a little terrier, but you don't know.
"She had that thing stuck on her head so she might not have been in a good mood.
"I opened the back door and the other dog legged it."
Keeta is a five-year-old American Bulldog who was abused as a puppy, then adopted from a rescue centre by the Page family.
Her owners tried to remove the cat flap themselves but it was stuck on, so they called firefighters at about 07:20 GMT.
Firefighter Graeme Fuller said: "She was happy to have it removed."