Download festival dubbed Drownload after heavy rains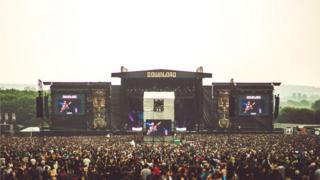 Heavy metal lovers were not deterred by a damp Download despite a river of water almost washing away tents.
More than 80,000 people were expected at the five day event at Donington Park, Leicestershire.
Headliners include Rammstein, Black Sabbath and Iron Maiden who were flown to the nearby East Midlands Airport by lead singer Bruce Dickinson.
It was hot and dusty when campers arrived on Wednesday but later storms led to it being dubbed Drownload.
The festival will be brought to a close later with Iron Maiden on the Lemmy Stage.
The muddy conditions failed to wipe the smiles off revellers faces, both young and old, or keep crowds away from the heavy metal extravaganza.
Bands at the festival included Korn, Megadeth and Deftones.
Ozzy Osbourne took to the main stage on Saturday night on Black Sabbath's apparent last ever tour with the band due to play their final gig in Birmingham in February.
Festival-goers are encouraged to attend the event in fancy dress with many rockers going to great lengths to impress
Away from the music stages there was plenty of other entertainment to keep the crowds busy.
And eagle-eyed campers may have spotted Iron Maiden fly in to neighbouring East Midlands Airport on Saturday.
The band's Ed Force One - pictured last week in Berlin - is piloted by lead singer Bruce Dickinson.