Jessops returns home to Leicester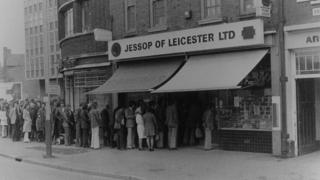 The camera retailing brand Jessops, which went into administration three years ago, is set to return to the city where it first started trading.
The firm, begun by Frank Jessop in 1935, closed its 187 branches in 2013, including the original Leicester store.
The brand was bought by a group including Dragons' Den star Peter Jones and some stores across the UK reopened but not in Leicester.
Leicester City's success was a factor in its return, the company said.
Chief executive Neil Old said it was a "great time" for Leicester after its football team won the Premier League title.
He said: "I was lucky enough to be with our big manufacturing partners in Tokyo earlier this year and I was outlining then the plan that our ambition was to take the brand back to Leicester.
"I was ready to explain where is Leicester and immediately everyone leapt around the table, our Japanese suppliers, everyone started talking about the football, it was such a phenomenon, it's been global news right to the heart of Japan."
The first Jessops shop was located in Oxford Street, in Leicester, but the new store will open in High Cross shopping centre in August.