'Irreplaceable' Tudor window 'stolen to order' from chapel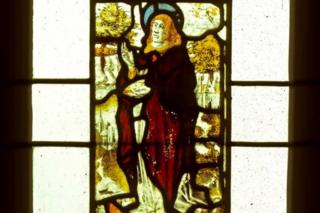 A stained glass window taken from a Tudor church was "stolen to order", experts believe.
A panel with the image of the prophet Ezekial was removed from the 16th Century chapel in the remote Leicestershire village of Withcote.
It is attributed to Galeon Hone, glazier to King Henry VIII, and was likely commissioned in the 1530s when the chapel was built.
The Churches Conservation Trust said it was a theft of public art.
Peter Aiers, regional director of the trust, which maintains the chapel, said: "It's not something you might just stroll across and decide you want to steal - a stained glass panel.
"You would have to know where it is and come here. The fact that it is by a very well-known stained glass artist from the 16th Century adds to the suspicion that they knew what they were doing and knew what they were looking for."
The trust believes the "irreplaceable" panel, which measures about 15in (37cm) by 8in (20cm), was taken between 24 and 30 July.
It depicts the prophet Ezekiel with long red hair, a blue halo and wearing white, black and red robes.
The work gives the chapel links to the court of King Henry VIII, as it was part of a series of windows donated by Roger Ratcliffe, Gentleman to the Bedchamber of Catherine of Aragon - the king's first wife.
The windows also bear the coats of arms of his third wife Jane Seymour.
Galeon, or Galyon, Hone was a Dutch glass painter who became King's Glazier in about 1520.
He made the windows for several royal palaces, including Hampton Court, but his major surviving work is King's College Chapel in Cambridge.