Jubilee Square camp protesters charged by police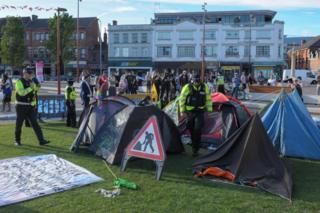 Three people have been charged with failing to disperse after police broke up a protest camp in Leicester city centre.
Police broke up the camp on Friday following reports people were being verbally abused and intimidated.
Two men, aged 38 and 35, and a 32-year-old woman were arrested and have since been charged with failing to comply with a notice to disperse.
They are due at Leicester Magistrates' Court on Thursday 15 September.
The protest camp had been in Jubilee Square for more than a week and those taking part claimed to be highlighting issues affecting homeless people.