Joint enterprise: Ameen Jogee jailed for manslaughter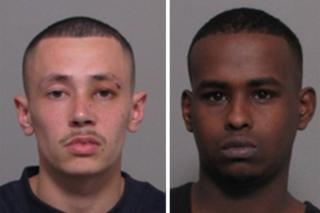 A man whose murder conviction was quashed in a landmark ruling on joint enterprise has been jailed for manslaughter instead.
Ameen Jogee, 27, had a re-trial after the Supreme Court ruled the joint enterprise law had been wrongly interpreted for 30 years.
He was originally given a life sentence for murdering Paul Fyfe, but will now be released in less than a year.
The judge gave him a 12-year custodial sentence following the re-trial.
However, offenders serve only half of these types of sentences in prison before being released on licence, and the five years Jogee has already served will count towards this.
Jogee's mother Rachel Whitehead said: "Obviously it's a lot better than the first sentence for murder and I'm just so happy that he's finally coming home.
"I know there's a life that's been lost and I'm really sorry for that but I lost my son."
'Difference in evidence'
The re-trial at Nottingham Crown Court heard that Mohammed Hirsi stabbed former Leicestershire police officer Paul Fyfe after an argument.
The prosecution claimed that Jogee "egged on" his friend to stab him, while the defence argued he was "in the wrong place at the wrong time".
Judge Gregory Dickinson said the case had "attracted considerable public and media attention" but he would "caution against reading too much into the final outcome of this case".
"The fact that the verdict was different in the re-trial seems to me to have as much to do with the difference in the evidence as it does with the change in the law," he said.
Paul Fyfe was killed in Leicester in June 2011 at the home of his girlfriend, Niomi Reid.
Jogee, a drug dealer with a criminal record, knew Ms Reid and supplied her with cocaine.
Jogee and Hirsi both went to Ms Reid's home on the night of the killing but she asked them to leave before Mr Fyfe came round.
Hirsi later returned to the home and had what the judge described as a "hostile verbal exchange" with the ex-policeman.
Hirsi left after Jogee returned to the house and collected him, but the pair later went back for a third time.
Hirsi then stabbed Mr Fyfe in the the heart after arguing with him.
'Influence of drugs'
In her original witness statement in June 2011, Ms Reid said Jogee had been "on the doorstep waving a bottle about, like he was egging [Hirsi] on again".
But in her evidence to jurors at the re-trial, she said it was not true that Jogee had brandished the bottle, and had been drinking from it instead.
She said: "I may have just been saying things to please the police. I was angry and under the influence of drugs."
Jailing Jogee, Judge Dickinson said: "On the jury's verdict Jogee did not intend that Hirsi should stab Fyfe with the intent to kill him or to cause him really serious injury.
"However, when Hirsi and Jogee returned to the property it was with the intention that Hirsi should attack Fyfe and cause him some injury, albeit not with really serious harm."
The jury cleared Jogee of murder but convicted him of manslaughter.
Hirsi is still serving his life sentence for murder, of which he must serve at least 22 years in prison before he can be released on licence.