Amazon Prime imam 'stopped in the street for selfies'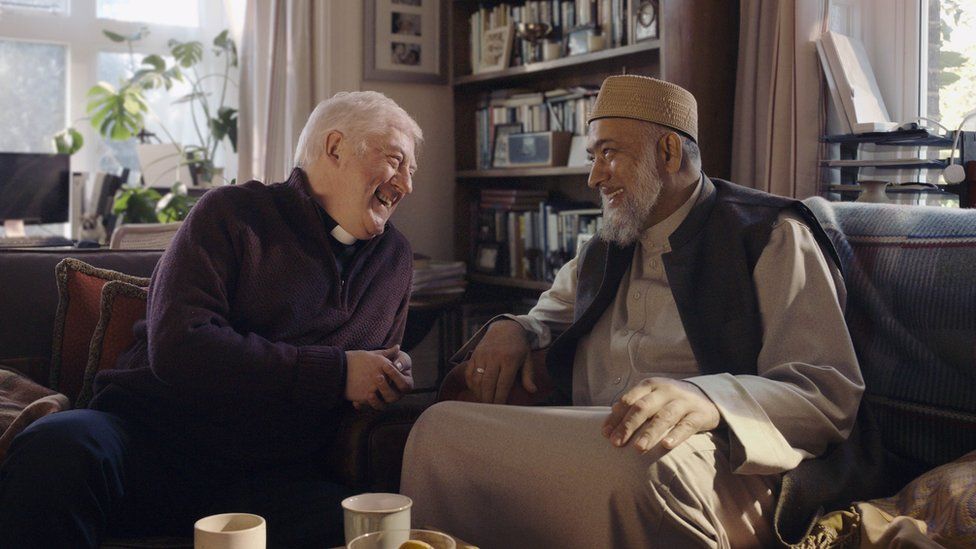 A man who played an imam in a popular Christmas advert has been asked to work with the government to promote harmony between Islam and other faiths.
In the Amazon commercial, Zubeir Hassam and priest Gary Bradley buy each other kneepads to help with the discomfort of kneeling while praying.
Mr Hassam said it had turned him into a celebrity, with people stopping him in the street for selfies.
He is even set to meet the Queen when she visits Leicester in April.
Since the ad was released in the UK in November to promote the Amazon Prime delivery service, it has been viewed millions of times around the world.
Mr Hassam, principal of the Muslim School, in Oadby, Leicestershire, said he was pleased with its positive message, which promotes friendship between Muslims and Christians.
"The message that went to the world and the community at large was of peace," he said.
But he said he never thought it would become so popular and he now gets stopped for selfies, including one occasion at an airport in Turkey, where he was recognised by a family travelling to Mecca.
"It was so amazing to see them all, the sisters and brothers in ihram [where men wear all white for the pilgrimage] and yet they wanted a picture with me," he said.
He was given a taste of celebrity life when he was invited to a world peace conference in Abu Dhabi and put up in a five-star hotel.
"I'm not royalty but I feel I've reached that level," he joked.
But there is a serious side to the attention the advert has garnered and the government has asked him to work with them on promoting harmony between faiths, he said.
Although he has met the Queen three times before the advert aired, he has been invited to dine with her when she visits Leicester on Maundy Thursday.
"I'm sure she'll [ask] me are you the Amazon imam? And I'll say, 'yes I am'," he said.
Related Internet Links
The BBC is not responsible for the content of external sites.