US cancer teen leads out Leicester City before win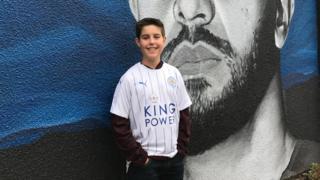 An American teenager who beat leukaemia has fulfilled a lifelong dream by leading out Leicester City as a mascot.
Travis Hackett, 13, joined the players on the pitch and then watched the Foxes beat Sunderland 2-0.
The teenager from San Diego has said the club's Premier League triumph helped him through his treatment.
The visit to Leicester was organised by aUS charity the Craig Willinger Fund that arranges football trips for young people with cancer.
Travis was told just hours before the match he would be leading the side out, having learnt last month he would be watching the match.
'Unique experience'
"We got there and they told him he was going to be a mascot and that amazed him," Johanna Agueda from the charity said.
"He told me himself that he was most excited about being able to go on the pitch... that was a unique experience.
"We were near Sunderland's fans but then they came and whisked us up to the director's box so Leicester City Football Club really stepped it up for us."
Travis is in the maintenance stage of his treatment and is considered to be cancer free, but will continue with chemotherapy until next year.
His interest in Leicester City began in 2014-15 when the Foxes went on a winning run to avoid relegation.