Lego 'guide' shows off Leicester landmarks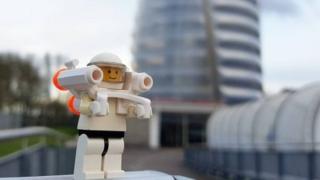 A 3cm tall guide with a difference has been spotted around Leicester showing off some of its landmarks.
Lego Man is the brainchild of De Montfort University media student Hugh Beaumont who has used him to show-off more than a dozen of the city's sights.
The figure has visited the National Space Centre, Richard III centre and Abbey Park as part of the project.
"I thought it was a cool way to show off Leicester's sites online...," Mr Beaumont said.
The appearances are part of his university project looking at using social media to promote Leicester.
He added: "I am amazed that this has taken off in the way it has. I really was not expecting it.
"The deadline line for the course is tomorrow, but it's been so much fun I think I'll continue with Leicester Lego Man."
"I have a friend who works at Leicester City Football Club and so I might contact them to see if I can get a photo at the ground. It's really exciting," Mr Beaumont said.