Tories retain control of Leicestershire County Council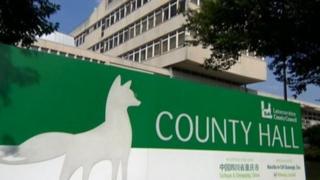 The Conservatives have retained overall control of Leicestershire County Council in the local elections.
The Tories gained five seats for a total of 36, while Labour won six seats which was a loss of three.
UKIP lost their two seats on the council while the Liberal Democrats held on to their 13 seats.
Conservative leader Nick Rushton, who is expected to remain the council's leader, vowed to protect frontline services over the next four years.
Election 2017: Full results from across England
'Tough times'
"A 17 [seat] majority is as much as I expected us to get," Mr Rushton said.
"We've got some tough times ahead, we've dealt with tough times in the past, and I feel certain we'll deal with the tough times going forward.
"I can promise the electorate the Conservative administration will represent you all, irrespective of whether you voted for us."
The leader of UKIP in the county, David Sprason - who is also the party's national spokesman on welfare and social care - lost his seat to Conservative Peter Bedford.
The Tory win means the party has won control of the authority for the fifth election in a row.