Megan Bannister: Leicester houses searched over Enderby crash body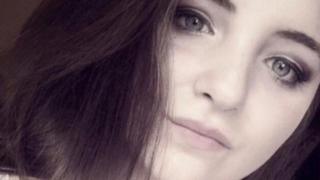 Two houses are being searched as part of a murder investigation into a 16-year-old girl's death, police say.
Searches in Waltham and Braunstone Avenues in Leicester are related to Megan Bannister's death, Leicestershire Police confirmed.
Her body was found in a crashed car but a post-mortem examination found her injuries were inconsistent with a crash.
Two men, aged 27 and 28, are still being quizzed on suspicion of murder.
A police spokeswoman said: "Searches carried out at an address in Braunstone Avenue were in connection with the investigation into the murder of Megan Bannister."
The force later confirmed searches were also carried out in nearby Waltham Avenue in connection with its inquiry.
Updates on this story and more from the East Midlands
Megan, from Leicester, was dead before the collision between a car and a motorbike in Enderby, Leicestershire, on Sunday, police said. Her body was found in the back seat of a black Vauxhall Astra.
Her family said in a statement that Megan was their "beautiful, talented, loving daughter and sister", who was "bright, clever, and a responsible person".
The schoolgirl was due to take the first of her GCSE exams on Tuesday, Wigston College said. She wanted to become a midwife.
In a statement, the school described Megan as "funny, friendly and good".
It added - in a letter to parents published on its website - that they have been asked by police to urge parents not to speculate about Megan's death on social media.
"Our first thoughts are for Megan's parents and brothers and sisters. Their grief must be shattering," Mark Mitchley, the college's executive head teacher, said.
"We are also thinking of her many friends at the college and we are supporting them in every way we can."