Sam Boulton: Taxi driver fined over cyclist crash death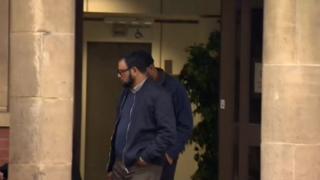 A taxi driver whose passenger knocked a cyclist off his bike, leading to his death, has been fined £300.
Loughborough Magistrates' Court heard Sam Boulton fell in front of a moving van on 27 July.
Mandy Chapple, 56, was exiting the cab near Leicester railway station when her door hit the 26-year-old cyclist.
Driver Farook Bhikhu denied permitting the opening of a vehicle door so as to injure or endanger a person but was found guilty on Monday.
In his defence, Bhikhu told the court he did not give permission for Ms Chapple to open the door.
But prosecutor Mouzam Razaq said the 56-year-old had been "neglectful of his duties".
Bhikhu, of Wicklow Drive, Leicester, was also ordered to pay £625 in prosecution costs and a £30 victim surcharge.
Magistrate Ben Faust told the driver parking his taxi on double yellow lines was "an inherent danger".
"We found that the passenger would have reasonably assumed that once the vehicle was parked and fare was dealt with, the journey was over," he added.
Updates on this story and more from the East Midlands
Mr Boulton, who was a teacher in Coalville, Leicestershire, died on his 26th birthday.
After the trial, his father Jeff said: "It's heart-breaking that an offence which has ended a life and caused untold trauma for my family be treated so lightly under current legislation.
"Until we have an appropriate offence in law, I call on the government to start investigating how they can better educate and train drivers about the dangers of 'car-dooring' and the techniques which will prevent it from happening."
Earlier this year, passenger Ms Chapple admitted accidentally hitting Mr Boulton with the door and was fined £80.
Van driver Nigel Ingram was handed a suspended prison sentence for failing to stop at the scene of an accident and driving a motor vehicle while over the legal alcohol limit.