Barrow upon Soar bridge collapse linked to ruptured water main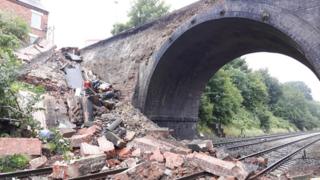 A bridge collapse that dumped 100 tonnes of debris on to railway tracks was partially caused by a water main leak, a report has found.
The collapse, in Barrow upon Soar, Leicestershire, happened minutes after a high-speed train had passed along the route on 1 August.
Contractors were drilling on the bridge for a core sample to investigate subsidence on a footpath at the time.
No-one was injured and the bridge reopened to traffic in March.
A report by the Rail Accident Investigation Branch (RAIB) found there was "no evidence that the wall was at risk of imminent collapse".
It added: "The coring work on the night of the incident disturbed the pressurised water main and it ruptured.
"The consequent release of water behind the wall quickly overloaded it."
Updates on this story and more from the East Midlands
The RAIB report found additional factors in the collapse were the design of the Victorian bridge, built in 1840, and long-standing cracks caused by subsidence.
"The adjacent wall fell away from the side of the bridge, taking with it part of the footpath, a length of cast iron water main and the core sampling rig," it added.
"Five workers were able to get clear as the collapse occurred.
"Two of the four railway lines through the bridge were completely obstructed and there was debris on a third."
One of the report's main recommendations called for "appropriate engineering input" about risks caused by "masonry repairs on bridges carrying water services".
It also said bridge examiners should report evidence of underground services so "connections can be drawn between a water main and observations of defects on the bridge".
The bridge reopened to pedestrians three weeks after the collapse but required further work before being deemed safe enough for vehicles in March.