'Disrespectful' parking on graves at Loughborough Crematorium slammed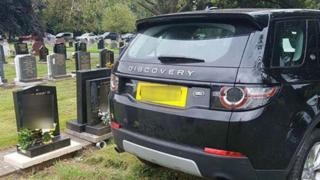 The parking of a car over graves has been slammed as "unacceptable and disrespectful".
A Land Rover Discovery was photographed on grass just in front of a number of headstones at Loughborough Crematorium.
The cemetery's landowner, Charnwood Borough Council, has asked staff to be extra vigilant to inconsiderate parking.
As the Loughborough Echo reported, residents have also voiced their anger.
'Unacceptable'
A spokesman for the council said: "We ask that all visitors to Loughborough Cemetery park in a courteous and respectful way and we would like to take this opportunity to remind people of this.
"The cemetery does not have any enforceable parking restrictions and we have never had the need for any.
"We will ask cemetery staff to be extra vigilant to any potential inconsiderate parking and point people towards the best places to park."
"Parking on graves is completely unacceptable and disrespectful," he added.
One Loughborough resident, who did not want to be named, told the Loughborough Echo he was taking a shortcut through the cemetery at about 10:00 BST on Tuesday when he spotted the vehicle.
"It is absolutely disgusting and it shows a complete lack of respect," he said.