Honey 'oozed' through ceiling from hive in Leicestershire home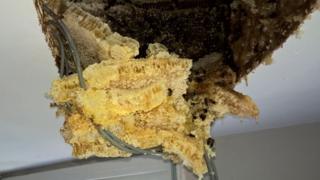 A gigantic bee hive has been removed from a house after the owners noticed honey "oozing" through from their loft.
Hundreds of bees were found at the grade II listed 18th Century house, in Market Harborough, Leicestershire, earlier in August.
The homeowners, who did not want to be identified, found the "sticky substance" near a light fitting.
Heritage insurers Ecclesiastical said its bee expert cut a hole in the ceiling and made the "surprising" find.
Updates on this story and more from the East Midlands
A spokeswoman for the company said: "The couple noticed a patch [and] on closer inspection they could see that the substance was sticky and coming through the light fixtures.
"They [also] noticed a lot of bees around the house and at this point sought an expert view.
"The bees expert made a hole in the ceiling and discovered the huge hive."
The company said due to the sheer volume of honey the claim had to be treated in a similar way to water damage, often caused by old pipe work.
A spokeswoman from the British Beekeepers Association said it was a "well established" colony and had probably been there for a long period of time.
She added that certain bee species "love high up dark spaces".
The hive was removed and the ceiling repaired, the cost of which has not been disclosed.