Leicester head teacher asks retired teachers to work for free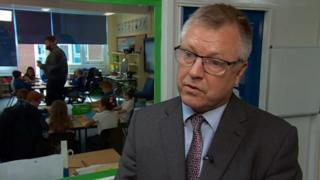 A head teacher has asked retired staff to come in and work for free because the primary school cannot afford to pay for teaching assistants.
Martin Turnham, head of Desford Community Primary School in Leicester, said he had lost about 30% of his teaching assistants since early summer.
He said he was worried that it would have an impact on his pupils.
The Department for Education said a new funding formula would provide higher funding per pupil in every local area.
Mr Turnham said the school, rated as good by Ofsted, would be unable to offer as much support to its 360 pupils, leading to a "detrimental impact" on their education.
"There will be a significant number of children whose progress in literacy and numeracy is not going to be as quick as it was last year," he said.
"We're going to be looking for members of our community that are either ex-teachers, have teaching experience, [or] are qualified and capable people that are able to come in and help replace the capacity that we have lost - for free."
Geoff Barton, general secretary of the Association of School and College Leaders (ASCL), said similar stresses on finances were being felt by schools across England, and with most of their funding going on salaries, cutting staff was frequently seen as a solution to reducing costs.
"The effect is going to be children with an impoverished education in larger classes," he said.
"It's really not good enough, and we will be calling very, very strongly, along with other teaching unions, on the government to prioritise education, which ought to be one of the most significant things we as a society are doing."