Cycling Weekly sorry for 'token attractive woman' caption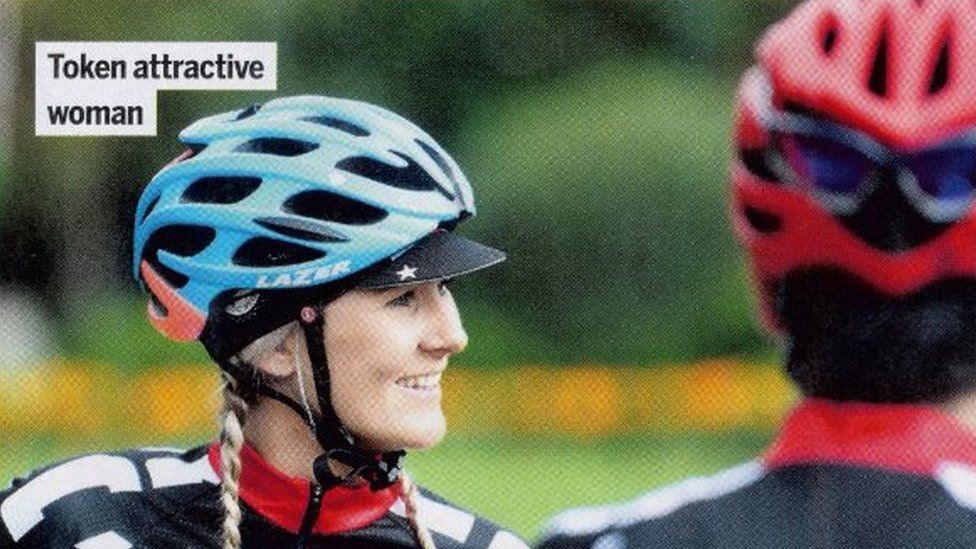 A leading cycling magazine has apologised after a female rider was labelled "token attractive woman".
Cycling Weekly's edition from 31 August featured a profile of Hinckley Cycle Racing Club to mark the Leicestershire group's 70th anniversary.
Club secretary Tim Ellershaw said they were annoyed, and the comment "should never have been made in the first place".
The magazine accepted the caption was idiotic and not funny.
Hannah Noel, the cyclist in the picture, said on Facebook: "I made it into Cycling Weekly, it seems not for my ability as a female cyclist but as a 'token attractive woman' - I'm absolutely gutted and disappointed in the magazine."
In response to a comment about her looking "fabulous", she said: "It's not really the reason I'd want to be in a magazine, it's sexist and derogatory to female cyclists."
Simon Richardson, editor of Cycling Weekly, said in a statement: "Unfortunately during the magazine's production process a member of the sub-editing team decided to write an idiotic caption on a photo of one of the female riders of the club.
"The caption is neither funny nor representative of the way we approach our work."
Mr Ellershaw said it had "taken the shine off" an exciting event for the club.
"It's really not appropriate in this day and age," he said.
"You can see how these things happen - comments slip through the net when things need to be proof-read properly - but it shouldn't be made in the first place.
"The lady in the picture is a keen member of the club - she rides every week, and she's certainly not just a token woman."
Related Internet Links
The BBC is not responsible for the content of external sites.