Mind the Gap: New bridge links two heritage rail lines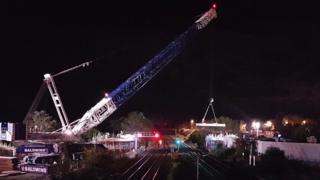 Parts of a railway bridge have been moved into place by a 1,000-tonne crane in a bid to re-connect a rail line in the East Midlands.
The bridge at Loughborough will allow the Great Central Railway to cross the Midland Mainline and link up with another heritage line from Ruddington.
The £2.5m project will see the reinstatement of 500m of missing embankment, track and bridge.
Two steel beams were put in place and the bridge decking will be added later.
The original bridge was removed in the early 1980s as part of cutbacks to the railway network.
When completed, the bridge will allow heritage rail lines on both sides to link up creating a new 18-mile (29km) route.
The Great Central Railway runs from Leicester to Loughborough while the Great Central Railway Nottingham runs from south Nottinghamshire to northwest Leicestershire.
Great Central Railway spokesman Richard Patching said: "For over 40 years, our supporters and friends have dreamt of work starting on the reunification of the line.
"We hope to continue raising funds to complete the project and finally join the two railways."
Phil Stanway, director of Great Central Railway Nottingham, said: "What was once deemed nothing more than a dream moves one step closer.
"The bridge installation is testimony to all who have contributed so far."