Pilots in fatal mid-air crash in Leicestershire 'saw each other too late'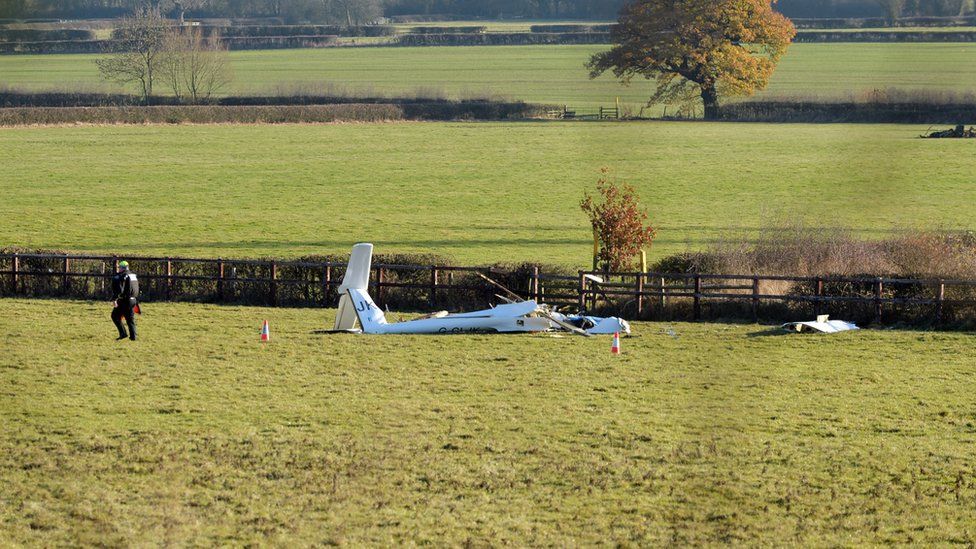 The pilots of a plane and glider involved in a fatal mid-air crash did not see each other "in sufficient time", a report has revealed.
The plane suffered damage to its right wing but landed safely.
In the Cessna were a flying instructor and a student on a training flight from the Hinton-in-the-Hedges Airfield to Leicester Airport.
The report said the instructor was "aware" of other aircraft in the area, which "were a source of distraction".
When the glider was spotted, the instructor "made an instinctive control input to pitch the aircraft nose-down and roll left" to try to avoid the collision, but shortly after they heard "a loud bang".
According to one eyewitness, visibility was "excellent, apart from when flying toward the low sun", and after the collision Mr Armstrong's glider rolled downwards steeply before crashing into a field.
Mr Armstrong was pronounced dead at the scene.
A post-mortem found he suffered "multiple injuries" when his glider hit the ground, and health issues were not a factor in the collision.
The AAIB report said both pilots "were appropriately qualified and experienced to conduct their respective flights".
It said there were "no electronic means" on the plane "to increase the ability to detect other aircraft", with the pilots relying on "lookout and visual detection, which has limitations".
Related Internet Links
The BBC is not responsible for the content of external sites.