Ryanair plane makes emergency landing at East Midlands Airport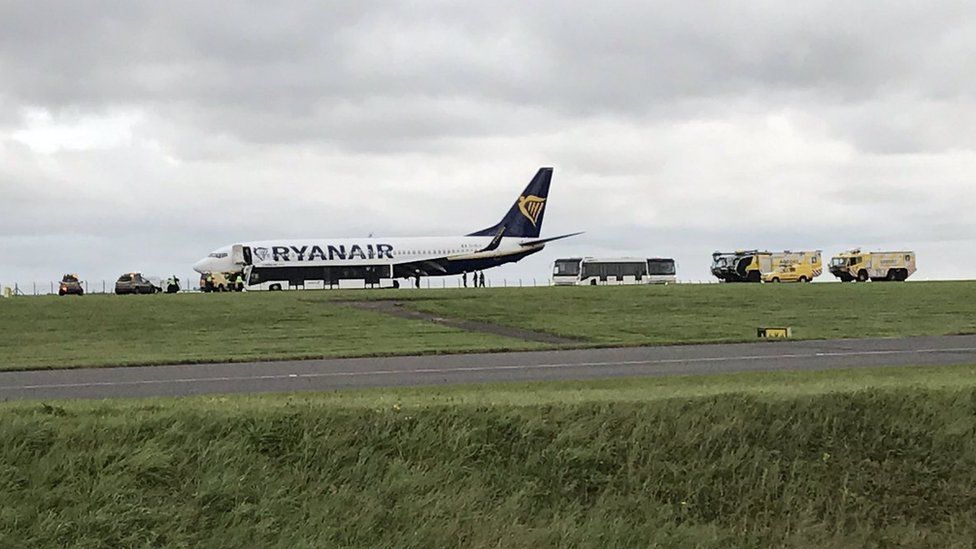 A flight from Stansted airport to Copenhagen had to perform an emergency landing after the plane lost one of its wheels after take-off.
Ryanair confirmed its Boeing 737 landed safely at East Midlands Airport and passengers had boarded a new flight.
Traffic was held on the M1 motorway while the plane landed and a number of other flights were delayed.
Investigators from the Air Accidents Investigation Branch have been sent to the airport.
The plane, which set off from Stansted at 08:07 BST, landed at East Midlands at about 10:15 BST.
It was towed off the runway and the area was cleared by 11:15 BST, the airport said.
East Midlands Airport said disruption to other services was "minimal", with one incoming flight forced to divert to Birmingham Airport to refuel before it arrived at East Midlands.
Ryanair said: "This flight from Stansted to Copenhagen diverted to East Midlands because of the loss of one of its two nose wheels after take-off.
"The aircraft landed safely in East Midlands, customers disembarked and will board a replacement aircraft shortly."