Man killed himself after stabbing ex-partner in Leicestershire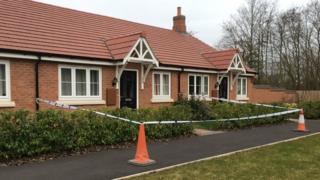 A man fatally stabbed himself after attacking his former partner with a kitchen knife, an inquest has found.
Sandie Rayne said she shielded her daughter when Warren Hall attacked her at a bungalow on Holland Crescent, Ashby de la Zouch, on 9 March.
She was found outside of the property and airlifted to hospital. Mr Hall's body was found in the kitchen.
Carolyn Hull, coroner for Rutland and North Leicestershire, said Hall "died at his own hands".
The inquest heard Ms Rayne had argued with Mr Hall while taking her daughter to the doctor, and after they returned to the bungalow he said he was going to kill her.
She said at this point she "did not feel it was serious" but as he came towards her she moved to protect her daughter and was stabbed in the back.
Mr Hall then attacked Ms Rayne in the main bedroom, the inquest heard, before he stabbed himself. He went to the kitchen while Ms Rayne went out of the house and called 999.
The child was physically unharmed in the incident.
Forensic analysis found blood from both Mr Hall and Ms Rayne on a kitchen knife with a broken handle, which was found in the hallway.
A post-mortem examination of Mr Hall gave a cause of death of "stab wounds to the chest and abdomen".
Ms Hull said Ms Rayne's account of Mr Hall attacking her before turning the knife on himself "appears conclusive", adding she hoped the inquest brought "closure" to their families.