Man convicted of Badoo meet-up murder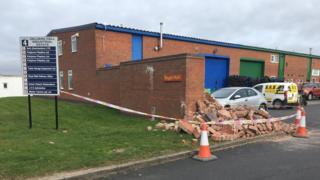 A man has been found guilty of the "pointless" murder of a single man his friend met through the dating-focused social networking app Badoo.
Tim Smith, 45, was stabbed in the heart in his car after meeting up with Mark Anthony Law, 20, and Mason Casey, 18, in Shepshed, Leicestershire.
Law, who arranged the meeting, pleaded guilty to murder and Casey was found guilty by a jury.
Both men are due to be sentenced on 23 October.
Mr Smith's father, Derick Smith, said: "It's been a long six months of not knowing the reasons why, if indeed we will ever know them.
"All of us are still feeling the loss from a pointless death, and for all the good or bad things he did in his life, he didn't deserve to have his life taken this way.
"He would probably still be a single person now and for the rest of his life, but by his life being cut short so suddenly, hopefully he will be reunited with his mother, who sadly died only a year before his death."
On the night of his death, 16 March, Mr Smith, from Staffordshire, had arranged to pick up Law from his home after chatting to him on Badoo.
Casey also joined them in the car, and Mr Smith drove to Gelders Hall Industrial Estate and parked up.
Law stabbed Mr Smith in the heart and the two men ran off.
Mr Smith then reversed the car and attempted to drive away, but collided with a wall at the entrance and collapsed.
He was found by someone working at nearby premises who had come outside after hearing the collision.
It was originally assumed Mr Smith had been injured in the crash, but examination showed injuries which were not consistent with this.
Mr Smith died at the scene and a post-mortem examination showed he died of a stab wound to the heart.
His father added: "He was always first to help others no matter what situation occurred. He had a good social life; he was never deterred by trying something new and enjoyed the outdoors.
"It seems such a waste of life, which no family should have to suffer, on both sides of the crime."