Ypres' English bells ring out at centenary ceremony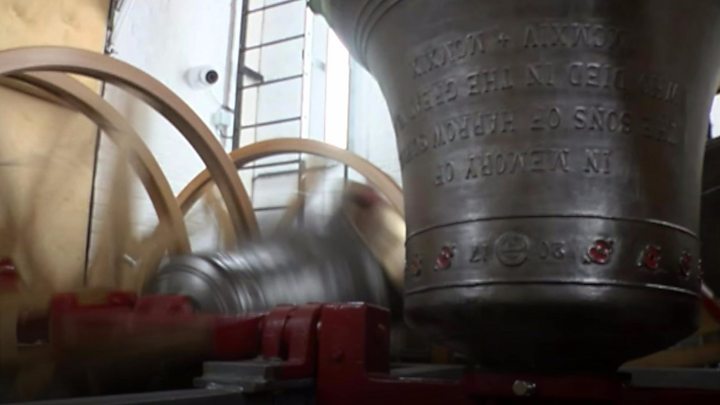 Eight bells have been rung in Ypres in remembrance of servicemen who died near the Belgium town during World War One.
The town was the centre of three major battles during the war but was never captured by the Germans.
St George's Memorial Church was built in 1927 to honour the dead. However, funds ran out before the bells were fitted.
Loughborough's John Taylor & Co made the new bells, which arrived in Ypres in August on two WW1-era lorries.
Hundreds turned out for a service on Sunday to bless the bells and hear them ring out.
Andrew Wilby, chairman of John Taylor & Co, said: "I am very pleased with they way they sound.
"They have power and presence, which is what we hoped."
The bells were commissioned by a group of English bell-ringers, who raised more than £195,000 from public and charitable donations.
Alan Regin, project organiser, said: "Many many soldiers fell in this area, many of them bell ringers, and what better way to commemorate fallen ringers than a brand new ring of bells cast by the best bell foundry in the world."
Three major battles were fought around the town of Ypres in 1914, 1915 and 1917, the latter widely known as Passchendaele.