Sick children's Christmas presents stolen from Great Central Railway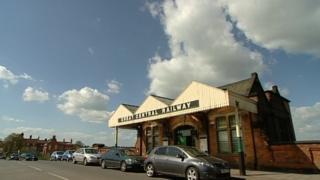 Thieves have stolen hundreds of Christmas presents donated by the public for children in hospital and a hospice.
About 370 presents were being stored in a carriage at Leicestershire's Great Central Railway's Quorn station following last year's Christmas event.
They were due to be sent to Leicester Royal Infirmary and Rainbows Children's Hospice in Loughborough.
Leicestershire Police is investigating the theft.
Replacements are already being donated.
The presents were left over from last Christmas, the railway confirmed, but were wrapped and labelled ready for delivery.
Michael Stokes, from the railway, said the break-in happened at some point in the last two weeks in a carriage where the presents were being held.
"All of them were wrapped ready for delivery," he said.
"We would like to take this opportunity to thank those people who have donated replacement presents already."