Murder arrest after 17-year-old fatally hurt in Leicester street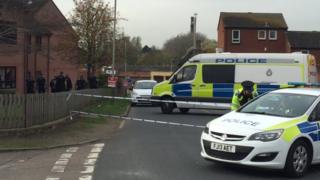 A teenage boy has been arrested on suspicion of murder after a 17-year-old boy was fatally injured in Leicester.
The victim was one of two teenagers found hurt on Ross Walk, in the city's Belgrave area, on Tuesday night.
Both were taken to hospital where one died. The second 17-year-old boy is being treated for injuries which are not believed to be life-threatening.
The 16-year-old arrested on suspicion of murder is also being held by police for attempted murder.
Updates on this story and more from the East Midlands
Leicestershire Police have not released further information about the injuries.
The area where the teenagers were found, near the River Soar, has been cordoned off.
Detectives would like to speak to anyone who may have seen two teenagers on Ross Walk or has any information.