King Power: Leicester City's owners 'face £323m lawsuit'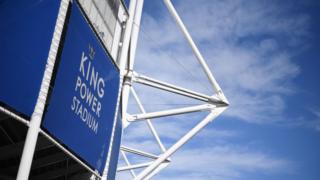 The owners of Leicester City Football Club are reportedly facing a £323m lawsuit over money owed to the Thai government.
A criminal court in Bangkok is considering whether King Power International has a case to answer, according to Reuters news agency.
The case is also being brought against executives of state-owned Airports of Thailand (AOT), Reuters says.
The BBC has contacted Leicester City FC, King Power and AOT for comment.
Live updates and more from the East Midlands
The lawsuit accuses King Power of failing to pay the Thai government 14 billion baht (£323m) from the operation of a duty-free franchise it was awarded in 2006.
At a hearing on Monday, the Central Criminal Court in Bangkok said it would consider the allegations to see if the case should proceed and would review the evidence in February.
The action against King Power, owned by Vichai Srivaddhanaprabha and his family, was initially filed in July.
---
Analysis: Professor Peter Leyland - School of African and Oriental Studies
This case almost certainly goes back to the time that the airport concessions were given out when the main international airport in Bangkok was being built.
Unravelling the complications of the contract and the concessions is likely to turn out to be a long, drawn out affair, as have been other such cases in Thailand.
There have been many cases in recent years that concern Thai billionaires and millionaires, none of whom have ended up in prison.
---
Who are King Power?
Retail business King Power was founded by Vichai Srivaddhanaprabha in 1989
The company was awarded its Thai duty-free monopoly in 2006
Srivaddhanaprabha, who is worth an estimated $4.9bn, bought Leicester City in 2010
King Power also own Belgian club OH Leuven and have a controlling stake in the operator of AirAsia
Correction 16 November 2017: This report has been updated to make clear that the Bangkok court has not accepted the case but is considering whether it should be heard.
---