Facebook post leads to home and job for homeless man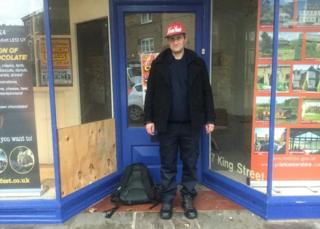 A rough sleeper has been given a job after a stranger posted a Facebook plea asking businesses to offer him a break.
Shane Sharkey was on a night out when he got chatting to Michael Peaks, who was sleeping in a doorway in Melton Mowbray, Leicestershire.
Mr Sharkey said he "felt guilty that everyone was enjoying their Friday night", so decided to try and help.
Within 20 hours of Friday's post, Mr Peaks was offered a room in someone's home and a job at a garage.
Mr Peaks, who had been homeless since leaving prison five months ago, said it was "like something you'd see in a film".
"I've never been on the internet so I don't know much about Facebook and that," he said.
"I thought nothing of it until the next day and people started coming up to me and saying 'How can we help'.
"I will do everything not to mess it up."
Mr Sharkey said his Facebook post was "absolutely phenomenally received".
"The local community really rallied round and just 20 hours later the guy has got somewhere to live, and he's got the opportunity of work," said Mr Sharkey.
"It's an amazing community response. I just hope this gives him the best possible chance."
Graham Limbrick from Witham Garage, who has given Mr Peaks a job, said he seemed very keen.
"He said to me 'I've taken money off the benefits system and it's my turn to pay back. I want to pay some tax'," said Mr Limbrick.
"He wants to go and earn a living and pay his way. So to me if he wants to do that he's got the bones of someone who wants to get up in the morning, come to work and earn a living."