Megan Bannister 'left to die in car as men rang escorts'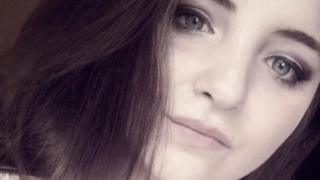 A schoolgirl was left to die on a car's backseat as two men drove her around while ringing escorts and buying beer, a court heard.
Megan Bannister, 16, was found with "blue lips" after the car was involved in a crash in Leicestershire in May.
She suffered no fatal injuries in the collision but two potential causes of her death were strangulation or a drug overdose, a jury was told.
Jason Burder and Adam King, both 28, deny manslaughter by gross negligence.
The pair, who are standing trial at Birmingham Crown Court, are accused of supplying Megan with MDMA, strangling her and neglecting her life-threatening condition.
Prosecutors allege Mr Burder and Mr King plied the teenager with alcohol and ecstasy in the early hours of 14 May, hours before the crash happened near Enderby.
Blood tests show Megan had "10 times the amount of MDMA" in her system than the two men, a jury was told.
Post-mortem tests showed Mr Burder's semen inside and on the victim, as well as "unusually" under Mr King's fingernails, the court heard.
The court heard a Snapchat video, possibly shot in Mr Burder's bedroom earlier that day, also showed Megan "out of it" and "fitting".
Miranda Moore QC, prosecuting, said there were "calls to escorts, working girls and websites" while Megan was in the car.
The court also heard how phone analysis, roadside cameras and shop receipts show that, instead of getting help for Megan, the men spent hours driving around until the crash.
Speaking about when the pair were arrested after the crash, Miss Moore QC said: "Their behaviour at the scene and complete lack of concern may indicate to you that by the time of the crash they accepted that Megan was already dead - and they still did nothing."
Mr Burder, of Braunstone Avenue, and Mr King, of Waltham Avenue, both in Leicester, deny wrongdoing and the trial continues.