Leicester police helicopter laser pen man jailed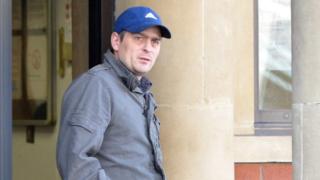 A man who shone a laser at a police helicopter could have caused the death of those on board, a court has heard.
Neil Wright, 35, was at home on Croyland Green, Thurnby Lodge, Leicester, on 10 October when he pointed the device at the aircraft.
Leicester Crown Court heard the light was shone several times, dazzling the pilot and forcing him to abandon the firearms linked mission.
Wright, who admitted endangering an aircraft, was jailed for 20 weeks.
A three-person team was in the helicopter at the time, the court was told.
Judge Marcus Tregilgas Davey said: "The seriousness of this offence is blindingly obvious.
"You could have caused the death of those people performing a public duty and, as it was over a residential area, there could have been further fatalities."
Paul Watts, chief pilot, National Police Air Service, said: "Police helicopters are required to fly a lot lower to carry out their work.
"They are in the vicinity of tall buildings and cranes so lights in the cockpit will distract them from the primary task of keeping the aircraft safe."