Leicester attack: Teenager 'tried to kill rape victim' with slab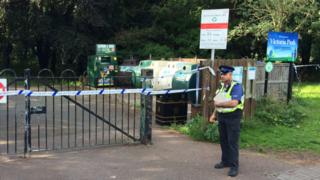 A 17-year-old boy raped a woman and left her for dead in a park after using a paving slab to cause her "dreadful" head injuries, a court has heard.
Leicester Crown Court was told the teenager attempted to kill the victim and then dragged her into undergrowth.
The teenager, who cannot be named for legal reasons, has admitted causing grievous bodily harm and two counts of rape but denies attempted murder.
His victim was attacked in Leicester's Victoria Park on the night of 3 July.
'Billion-to-one'
Prosecutor Gordon Aspden told jurors the woman would have died were it not for the treatment she received in hospital.
The jury was told the defendant was linked to the attack by "billion-to-one" DNA matches after his parents contacted the police following a media appeal.
More stories from around the East Midlands
After showing the jury CCTV of the defendant allegedly carrying a paving stone, Mr Aspden said the woman was walking through the park when her attacker appeared at her side before violently forcing her to the ground and raping her.
He told jurors: "At one point during the attack the defendant dragged her off the path into the adjacent undergrowth.
"There was violence throughout. He struck her repeatedly. As a result of those blows she suffered truly dreadful, life-threatening head injuries.
"He raped her and attempted to kill her in order to prevent her from telling anyone.
"In short, had it not been for the outstanding medical treatment that she received, she would now be dead."
'Big and rectangular'
Police were called to the park at about 23:35 BST by three youths, who heard screaming and saw a woman struggling with a man, but did not spot the injured victim who was lying semi-conscious in the undergrowth.
A cyclist contacted the ambulance service roughly 50 minutes later after spotting blood and a hair-clip on the ground and finding the victim critically injured nearby.
A teenager, who gave evidence from behind a screen, said he saw a man repeatedly hitting a woman over the head with a "big and rectangular" object.
In a statement read to the court by Mr Aspden, the victim said: "I have no recollection of being assaulted or sexually assaulted, nor can I remember who the person was that did that to me."
The trial continues.