Leicester attack: Teen rapist searched for 'warped' videos online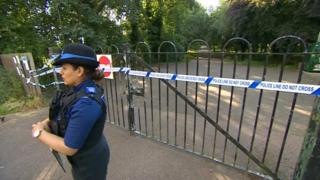 A teenage rapist accused of attempted murder searched for "warped" videos online weeks before he attacked a woman in a park, the court has heard.
The 17-year-old, who denies the charge, has admitted two counts of rape and hitting her with a paving slab in Victoria Park, Leicester, on 3 July.
The "brutal" assault was "not intended to kill", his defence lawyer told Leicester Crown Court.
The jury will resume its deliberations on Thursday.
More stories from across the East Midlands
The teenager, who pleaded guilty to causing grievous bodily harm, refused to give evidence in court.
The jury heard the boy, who cannot be named, had conducted internet searches on his phone, seeking "warped" videos depicting the rape and humiliation of "helpless" women and girls.
In closing speeches Gordon Aspden, prosecuting, said the attack was an attempt to "silence" the victim, who "came within a hair's breadth of dying at his hands".
He said: "The ugly truth here is that this dangerous young man, for his own selfish reasons, chose to carry out an attack of quite desolating wickedness on a complete stranger and his intention was to rape and kill her."
Phil Bradley QC, defending, said: "It was clearly brutal and gratuitous and he accepts that, that's why he has pleaded guilty.
"The only safe inference is that the assault was not intended to kill."
Summing up the case, judge Mr Justice Haddon-Cave said the sole issue for jurors to decide was whether they were sure the defendant had intended to kill at the time of the attack.