BBC commentator Ian Stringer's struggle to help alcoholic mother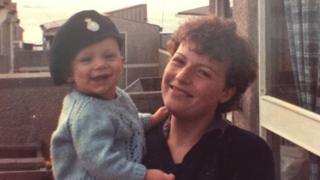 A BBC football commentator has spoken of his struggle to help his alcoholic mother, who was found dead in her home weeks after her death.
Christine Davies, 55, mother of BBC Leicester's football commentator Ian Stringer, was found on 21 June last year, but had died seven weeks earlier.
Mr Stringer said he had tried "time and time" again to help his mother, but she denied she ever had a problem.
The Lincolnshire coroner said the cause of death was "unascertained".
More stories from across the East Midlands
Speaking after the inquest into his mother's death, which took place in Lincoln on Tuesday, Mr Stringer said: "It feels like someone has ripped my heart out and they're feeding it back to me.
"She was my mother, she gave birth to me. I wanted to be the one to help her, the one who cracked it, but I ran out of attempts.
"She was in denial; she didn't think she had a problem. The last time my sister and I saw her was in Leicester. We met her at 11am and she was drunk."
Mr Stringer said the whole family had tried many times to help his mother.
"She had seven or eight brothers and sisters and we were all there, standing in a line, holding hands, waiting for her to take a step forward, shuffle forward, anything for help but she never did.
"In the end I had to put some distance between my mother and my family for my children.
"I tried so hard to help her, but I failed. And I don't like failure, she instilled that in me.
"She was dead for seven weeks - seven weeks. If it wasn't for my friend, a pastor, and help from the charity Relate, the guilt would have eaten me up."
Alcohol misuse
Recommended limit of 14 units per week (equivalent to seven pints of lager, 14 measures of spirits or five glasses of wine)
Short term risks of misuse include accidents, violent or unpredictable behaviour, alcohol poisoning
Long term risks include heart disease, stroke, liver disease and liver, bowel and mouth cancer
You can review your alcohol consumption with tests and questionnaires
Help and advice is available from groups like Alcohol Concern and Al-Anon Family Groups
Source: NHS Choices
In a tweet on Tuesday, Mr Stringer said: "I did my best Mam, I promise."
Hundreds of people have replied to him to offer support.
He added: "Just phone your mum, speak to her because in an instant she could be gone."