Beard-stroking 'job' advert gets thousands of responses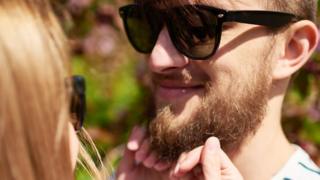 More than 4,000 bearded men have applied to have their facial fuzz stroked by stressed-out Christmas shoppers.
Mo Bro's Grooming Co in Leicester advertised for hirsute gentlemen to staff its "beard stroking station" in return for £30 an hour.
It hopes the soothing service will "de-stress" shoppers in the final days before Christmas.
The firm said there had been a "phenomenal" response.
Profits from each £5 session will go to homeless charity Shelter.
Co-owner Keval Dattani said 46 shoppers - a mix of men and women - had submitted advance applications to be strokers.
Local bearded celebrities, including Leicester Tigers players and world champion clay pigeon shooter, Ben Husthwaite, had also shown an interest, he said.
Just as studies have suggested stroking pets can reduce stress, Mr Dattani said he hopes human beards will have a similarly calming effect on last-minute Christmas shoppers.
"We didn't want to enlist the help of animals because they obviously can be somewhat unpredictable and chaotic," Mr Dattani said.
"So, doing what we do, we thought beards are the next best thing."
The stroking station will consist of a seaside-style hole in the wall, where the bearded men will put their chins through wooden screens for 20-minute stroking sessions, accompanied by soothing music.
They can even make conversation with their stroking partner, if they wish.
It will also be open to passers-by from Wednesday 20 December.
Itchy
For hygiene reasons, hand sanitiser will be available and every stroker has the option of wearing disposable gloves.
The company's own grooming products will be on hand to combat dry skin from too much rubbing, Mr Dattani said.
"The last thing they'll want is itchy beards."