Great Central Railway: Museum has £9.5m funding withdrawn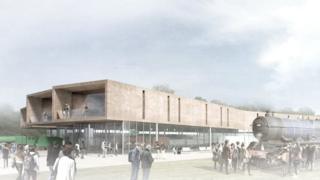 An £18m railway heritage museum has had £9.5m of lottery funding pulled due to "ongoing concerns" about the project.
The Great Central Railway (GCR), with the city and county councils, had hoped to build the attraction at Leicester's North Station by 2021.
The Heritage Lottery Fund had allocated money for the project, but cited potential for costs to increase as one of the reasons for withdrawing funding.
GCR's managing director Michael Gough said he was "astonished" by the move.
The full implications of the future of the project are now being assessed.
The museum had planned to house the collections of both the GCR and York's National Railway Museum.
It was also part of a wider project to reconnect two stretches of line between Leicester and Nottingham to create an unbroken 18 mile (23km) heritage route.
Extended timescales
The HLF said there were concerns about "outstanding risks", which included continuing extended timescales, future operational costs and management arrangements.
Spokesman Jonathan Platt said: "It is with regret that HLF Board has decided to withdraw from this project.
"We realise that this will be disappointing news for all partners, but we have a responsibility for distributing money raised by National Lottery players."
Leicester's City Mayor, Sir Peter Soulsby, said the HLF had "let down badly" those behind the project, but all organisations involved would work together to "see what can be rescued".
Mr Gough added: "We were genuinely astonished to hear the news about the HLF's decision on our round two funding and I have to question their rationale.
"I was confident that the strength of our combined proposal would be a winning solution."