New Year Honours 2018: Holocaust survivor appointed MBE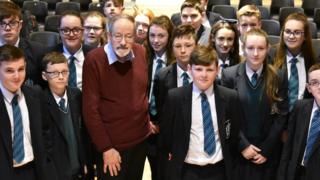 A retired doctor, who survived being sent to a concentration camp as a child in World War Two, has been appointed an MBE.
Martin Stern was born in the Netherlands in 1938 after his parents fled from Germany.
Arrested by the Gestapo aged five, he was sent to Theresienstadt, a concentration camp in what is now the Czech Republic.
The 79-year-old has been honoured for services to Holocaust education.
Dr Stern, who moved to the UK in 1950 and settled in Leicestershire in the 1970s, said he began getting involved in Holocaust education efforts in 2004, two years after retiring from medicine, having been a specialist on asthma and allergies.
He said he was "very moved and very grateful" to receive the recognition, and hopes it will help him in his "mission" to make people more aware about the causes and consequences of genocide.
"It sounds like a platitude to say that it's vital work, but I really do think that," he said.
"Genocide is a major cause of death and destruction - people said 'never again' after the Second World War, but it keeps happening again and again and again.
"If you look at the news there are horrors going on around the world, and it shows why this work is necessary."