Birstall houses demolished after fatal gas leak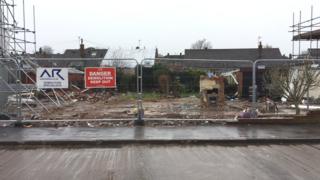 Two homes wrecked by a gas explosion that killed a woman and damaged dozens of properties have been demolished.
Janet Jasper died in hospital after a cooker spark ignited the blast on Allington Drive, in Birstall, Leicestershire, on 11 December 2017.
A number of families remain out of their homes, with many neighbouring properties boarded up.
The fire service found a "catastrophic" pipe failure led to the leak and ruled out a criminal investigation.
Updates on this story and more from across the East Midlands
Two men were also hurt when the explosion damaged up to 50 homes, with some families forced into temporary accommodation.
A fire service report found "a catastrophic failure of an internal gas pipe joint" under the kitchen floor was the source of the leak.
The gas maintenance company Cadent, which supplied the house, said it only had responsibility for pipes up to the gas meter.
Retired medical secretary Lesley Ward, 71, who lives opposite, said she did not leave as damage to doors meant she could not make the house secure.
"It is absolutely devastating to look out of your window every day and just see all the scaffolding and all your neighbours have gone.
"It really is heartbreaking".
Councillor Jonathan Morgan, leader of Charnwood Borough Council, said: "This was a tragic incident for the Birstall community and our thoughts are with those affected.
"Once again, I would like to praise the community's response to this tragedy.
"The support they have offered to people affected by this incident has been inspiring."