Three hour back-of-ambulance wait for Leicester A&E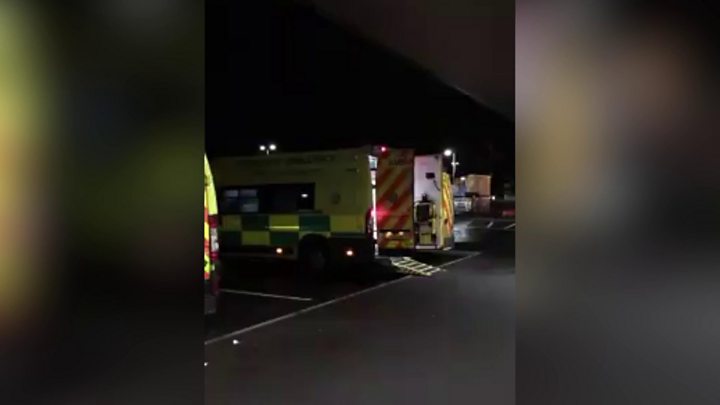 The daughter of an 84-year-old man who had to wait in the back of an ambulance for three hours before being admitted to hospital has written an open complaint letter to the prime minister.
Annie White's father, John, was taken to Leicester Royal Infirmary (LRI) after a fall on Tuesday and had to wait in a queue of about 15 ambulances.
Ms White said it was an "upsetting eye opener that the NHS was under-funded and unsupported".
The hospital has apologised.
Ms White, from Hinckley, said: "It was upsetting more than anything. I felt mostly for the staff because it was so busy that night. They were really stretched to the limit."
The 24-year-old added that paramedics remained with them and nurses kept coming over to check on them.
"The nurses were tired - it is disappointing seeing how much they go through.
"I remember one paramedic saying 'if it keeps up at this rate there will end up not being any ambulances out on the roads'".
In her letter posted on Facebook, Ms White said about 175 people filled the seats in A&E and a board claimed there was a six to seven hour waiting time.
"We found ourselves sharing a bay with another patient, as we watched paramedics around us having to complete nurses' tasks because emergency nurses positions are understaffed," Ms White wrote.
Chief executive at Leicester's Hospitals John Adler said: "I would like to apologise to Miss White, her family and everyone else who has had to wait longer than normal for treatment in our Emergency Department or who has had their operation cancelled.
"Like every hospital across the country, we have been very busy over the Christmas and New Year period."
Earlier this week, Prime Minister Theresa May apologised to patients and NHS bosses announced the cancellation of tens of thousands of non-urgent operations in an attempt to ease the pressure on hospitals.
Ambulance delays
Ambulances are meant to be able to handover patients to A&E staff within 15 minutes.
Figures from between 20 November and 31 December 2017:
| Region | Total ambulances | Delayed over 30 minutes (%) | Delayed over 60 minutes (%) |
| --- | --- | --- | --- |
| East Midlands | 40261 | 20 | 5 |
| East of England | 55728 | 18 | 5 |
| North West | 86627 | 17 | 6 |
| West Midlands | 69614 | 15 | 2 |
| South East | 85821 | 15 | 3 |
| Yorkshire and The Humber | 60372 | 10 | 2 |
| London | 94300 | 9 | 1 |
| North East | 26040 | 7 | 2 |
| South West | 53482 | 5 | 1 |
| England | 572245 | 13 | 3 |
NHS England