Murder probe 'linked to Leicester jewellery shop break-in'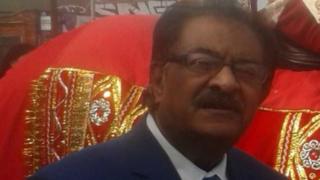 A jeweller whose body was found by the roadside was abducted from his shop and murdered, police believe.
Ramniklal Jogiya was discovered in Gaulby Lane, Stoughton, at about 10:00 GMT on Thursday.
Leicestershire Police, who have begun a murder inquiry, believe he was "taken against his will" after an "unknown person" broke into his shop on Belgrave Road in Leicester on Wednesday.
Police have released CCTV of Mr Jogiya, 74, leaving the premises.
More on this and other East Midlands stories
He was reported missing on Wednesday night after failing to return from work.
Police said that initial inquiries had established he was pulled into a vehicle and taken away from the Belgrave Road area.
They think that what happened at this store was a "precursor to the events leading to the death".
A neighbouring businessman described Mr Jogiya, who was known as Ramnik, as "a quiet gentleman".
Paresh Raja, 60, who also runs a business on Belgrave Road, said: "He was very softly spoken and nice natured.
"We are all in a bit of a shock."
Another shopkeeper, who wished to remain anonymous, said a woman had recently had jewellery taken from around her neck while walking along the road.
Det Supt Simon Cure asked for the public's help to "find the culprits of this murder".
He said officers were working on "a number of hypotheses", but were keeping an open mind.
A spokesman said: "The post-mortem has some clarity but there are further tests that need to be done to absolutely establish the cause of death."