Ashwin Daudia jailed over ex-wife Kiran's murder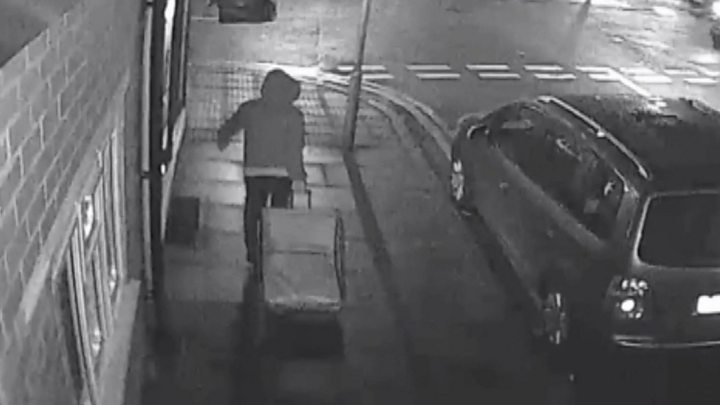 A "controlling" husband who was caught on CCTV dragging his ex-wife's body in a suitcase has been jailed for her murder.
Ashwin Daudia, 51, strangled Kiran Daudia and stuffed her remains into the luggage before dumping it in an alley behind bins.
Leicester Crown Court heard Daudia killed Kiran on the day he was due to be kicked out of the home they shared.
He was given a life sentence with a minimum of 18 years behind bars.
The court heard Kiran was reported missing by her family when she did not return home from work.
Police went to the home address and spoke to Daudia, who claimed he had not seen her.
Live updates and stories from across the East Midlands
Officers received a call the next morning from a neighbour who had found the suitcase abandoned in their back yard.
They later discovered the footage of Daudia dragging the suitcase around a corner near Kiran's home.
The court heard the couple, who had an arranged marriage in 1998, continued living together after their divorce in 2014.
But their house in Lyme Road had been sold to Kiran's sister, with Daudia set to move out on 16 January last year.
Prosecutors said Daudia's claim he had "lost control" and killed his ex in self-defence was a lie designed to protect himself.
They argued ligature marks on her neck suggested she had been strangled with her own scarf.
Passing sentence, Judge Timothy Spencer QC said he was satisfied Daudia had killed Kiran "in what should have been the safety of her own home".
'Selfish pride'
"In my judgment you were arrogant, bullying and bent upon maintaining control.
"In short, I'm quite satisfied the course of destruction of your family was a course charted by you.
"Your selfish pride fuelled your anger."
In a statement, Kiran's family said she had "lots of dreams and aspirations which were... taken away by this demonic act".
"Life without her will never be the same."